Finance For Hockey | The Sponsor & Networking Platform for Investment Professionals that target the Dutch Institutional Market.
Together with business partners and friends in the financial services industry van Stuijvenberg Financial Services started Finance For Hockey in 2015. Finance For Hockey is a sponsoring and networking platform for financial services providers that target the Dutch institutional market. The platform has a non profit setup and uses all revenues to support the Dutch top league (ice) hockey team Kemphanen. The sponsoring platform's focus is on asset managers, brokers, consultants, custodians and recruitment firms.
Every season Finance For Hockey organizes an 'Off Ice on Topic' institutional investor event where our technical director Mark Visschers kicks off with a 2 minute update on the team. After this update the sponsors will present followed by drinks, bites & networking time. For the sponsor presentations the focus is on the content and not on the product.
Our first event took place on the first of June 2015. The event topic was 'Fixed Income Smart Beta'. The second event took place in march 2016 and it's topic was 'Addressing Non Plain Vanilla Betas to Survive the Low Yield Environment'. Both events were held in Amsterdam at Huize Frankendael and were a great success. The presentations can be downloaded from the main page.
The picture below was taken at at Huize Frankendael during our first event in June 2015.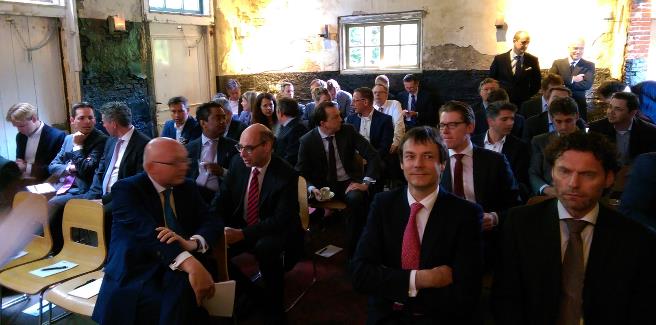 Although our main focus is on content, networking and the 'Off Ice on Topic' events we of course also go and see matches. We periodically invite sponsors and their relations to come and see a match. Also we organize informal dinners with sponsors and friends in the industry. On September the 9th 2015 we had an amazing dinner with NHL legend Ken Baumgartner. Ken Baumgartner played in the NHL for 12 seasons, was assistant coach for the Boston Bruins and vice president of the NHL players association. Now Ken Baumgartner works for one of our key sponsors who helped to organize this special dinner.